REGISTER TODAY!
NPE Awareness Month Virtual Retreat
Please join us for our second annual NPE Awareness Month Virtual Retreat!
Duration
12:00 pm EST to 5:00 pm EST
WANT TO ATTEND THIS EVENT FREE?
THE NPE EXPERIENCE
And get free courses for 2022?
And free admission to all quarterly events?
And access to all of our monthly discussion groups?
Sign up now for The NPE Experience and receive free admission to NPE Awareness Month Virtual Retreat!


Join The NPE Experience today and receive
Free admission to this event and all quarterly NPE events.
Instant Access to The NPE Experience series of lectures from spring 2021
Instant Access to the NPE Mindfulness Sessions
NPE discussion meetings throughout each month

AND FREE INSTANT ACCESS TO ALL UPCOMING PREMIUM COURSES IN 2022!

Only $27 a month!
The NPE Experience is a private, online, healing community created by NPE's, for NPE's!
FOR A LIMITED TIME ONLY GET FREE ACCESS
TO ALL UPCOMING COURSES IN 2022!
*Promotional offer good only until May 31st.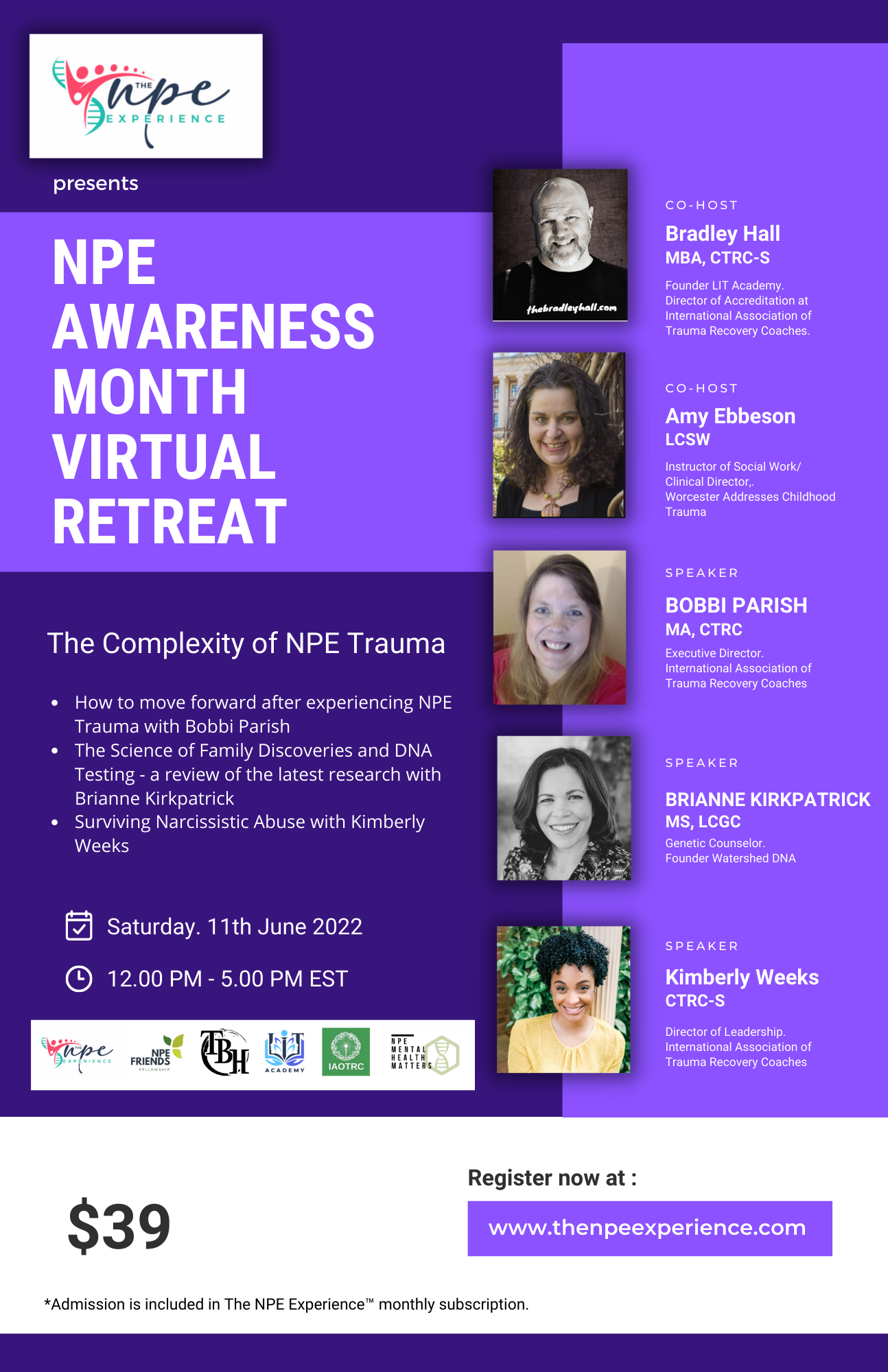 Bradley Hall, MBA, CTRC-S
About
Bradley Hall is a holistic transformational life coach, certified trauma recovery coach, certified mindfulness instructor, and spiritual advisor. He founded the LIT Academy in 2018 to provide instruction and facilitate dialogue to ultimately help others facilitate their own self healing and growth.
Bradley specializes in helping people transform their lives by focusing on themselves. His unique approach, and vast understanding of psychology, philosophy and spirituality, make him a highly sought after holistic transformational life coach.

Bradley is currently pursuing his PhD in Jungian & Archetypal Psychology at Pacifica Graduate Institute in Santa Barbara, CA.